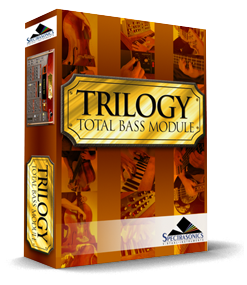 Trilogy
Total Bass Module
Trilogy is discontinued. Check out Trilian the next generation bass module from Spectrasonics.

About Trilogy
When it was introduced in 2002, Trilogy was the world's first and only virtual instrument dedicated as a total solution for Bass - integrating a large library of Electric, Acoustic and Synth bass sounds with a powerful, yet easy to understand user interface based on the UVI engine. Trilogy garnered many top industry awards and rave reviews and became an industry standard for being The bass virtual instrument. All the famous sounds from Trilogy can still be found in enhanced form within our current Bass module, Trilian - which is based on our STEAM engine.
Upgrades are available in the
Techshop
.

Audio Demos
*All other manufacturers' product names used in this instrument are trademarks of their respective owners, which are in no way associated or affiliated with Spectrasonics. These trademarks of other manufacturers are used solely to identify the products of those manufacturers whose tones and sounds were studied during Spectrasonics sound development.