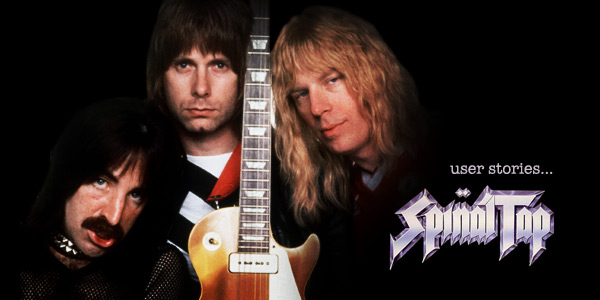 When we heard rumors that the one and only Spinal Tap - unquestionably the greatest band ever in the history of mankind - was using Spectrasonics instruments for their new album, our jaws hit the floor and we began a quest to find out if it was true!
Producer/Keyboardist CJ Vanston confirmed that yes in fact, the Gods of Rock indeed used Omnisphere and Trilian in the production of the new "Back from the Dead" album. Vanston says, "The song 'Stonehenge' has Omnisphere all over it, listen to the phasey strings in the intro, the analog swells underneath, and the big analog brass in the meat of the song. Two of our new songs, 'Warmer Than Hell' and 'Back From The Dead' have Omnisphere all over them....some Glock-ish stuff in 'Saucy Jack' and a nice Farfisa on 'Gimme Some Money' are a few that come to mind. There is a ton of sound design in some of the production pieces, like 'Stonehenge,' 'Rock & Roll Creation,' and others."
And possibly the ultimate, most earth-shattering compliment of all, "Trilian got used on the remake of the classic Spinal Tap track 'Big Bottom,' of course. Wonderful destiny for a virtual bass instrument, eh?!" (...low praise indeed!)

Spinal Tap at Wembly Stadium: CJ Vanston, Nigel Tufnel, Derek Smalls, David St. Hubbins
The new double-album reprises the band's classic songs from the mocumentary 'This is Spinal Tap' (but louder) and adds six new ones. Spinal Tap members, guitarist Nigel Tufnel (Christopher Guest), bassist Derek Smalls (Harry Shearer) and drummer David St. Hubbins (Michael McKean), were joined by Producer CJ Vanston at The Village Recording Studios as well as at Vanston's Hollywood Treehouse Studios to make the record.
As the Producer for the new album Vanston wore dozens of hats, "I'm involved with almost every aspect of this production, from setting up and recording rehearsals, writing charts, putting the engineering team together, picking a studio and scheduling studio time, renting sitars, writing new songs, finding non-alcohol single-malt, keeping the drummer healthy, defining file protocols and backup schemes for the project, selecting a mastering engineer, assembling recorded tracks and takes, pre-mixing, overdubbing, mixing....I'm also a hobbyist photographer and the court archivist. Oh, and tech support for all the guys, I got them all to switch to Logic."
Speaking of his initial involvement with Spinal Tap, Vanston told us, "In 1991 I got a message from drum legend Russ Kunkel (one of the ill-fated drummers in the original film), saying 'Call me, I've got the gig from hell.' I did, and the gig ended up being for Spinal Tap, they needed a keyboard player for a concert at the NAMM Show. This really took the cake! I ended up spending a week programming every sound on the record and putting together a massive keyboard rig. I wanted to make sure it sounded HUGE so the guys would know who to call next time. We ended up not only having a great gig, but really hitting it off."
Vanstan's connection with Christopher Guest led to his scoring all of Guest's comedies starting with 'Waiting for Guffman' (btw, don't miss CJ's cameo in the film as the legendary 'hybrid Trumpeter/Timpanist') He says, "That movie of course turned into three more classics with essentially the same cast, production team, etc. ('Best in Show', 'A Mighty Wind', 'For Your Consideration'). Working with Christopher, Eugene Levy and all those great actors will always be one of the high points of my career."
Vanston reminded us, "I've been a Spectrasonics user since day one. Years before he founded Spectrasonics, I remember watching Eric Persing do a Roland product demo at the Chicago NAMM show. I was standing with Dennis De Young from the band Styx, who I was in the middle of a solo album with. Eric was of course brilliant, and in the middle of the demo, Dennis turned to me and said, 'How come HE'S not doing my record?'" Vanston concludes, "Despite my extreme envy of Eric's talent, I STILL buy everything Spectrasonics makes. But seriously, the commitment, talent and attention to detail that I saw that day is what is behind the instruments I use and appreciate almost every day. So thanks, Eric, and stay away from my band!"
"When I travel, I'm always doing a lot of songwriting. Of course, lurking inside my laptop is everything Spectrasonics makes, and so I always get a suite and set up a mini-studio in it, doing my writing sessions there. Even now, in 2009, people are blown away with the quality of the music they walk away with, all from a laptop...Logic and Stylus RMX, Trilogy, Omnisphere and a mic are all I need!"
"Because of this power, and the ability to use virtual instruments like Omnisphere, I work 99-percent In-The-Box," says Vanston about using all software instruments to compose. "This enables me to jump around at will with no setup time between songs. For instance, when we did overdubs for the Spinal Tap record, we worked on 23 pieces of music... I was able to call up whatever song needed overdubs, etc. in an instant and get on with it without holding up the guys, twiddling knobs and patch-chords."
On the "Back From The Dead" album, the band is joined on their opus by not only CJ Vanston on the album tracks but a few mysterious 'sidemen' too: a dude named Keith Emerson ripping the keys, and Nigel-worshippers Phil Collen (Def Leppard), John Mayer and Steve Vai take it to '11′ on guitar.
Check out the Spinal Tap Myspace page.
Visit CJ Vanston's website at www.cjvanston.com
*Featured user stories do not imply an endorsement.