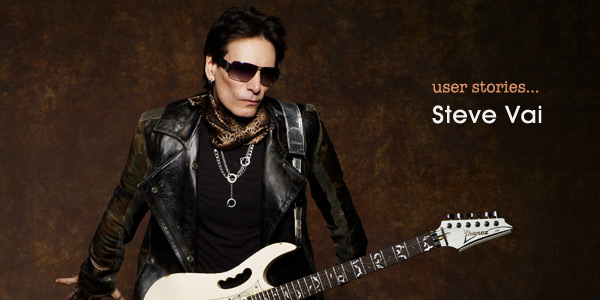 Steve Vai is a card-carrying, board-certified guitar god, not to mention a gifted composer and producer. He has played the impossible with Frank Zappa, burned up the charts with David Lee Roth and Whitesnake, and has surrounded himself with incredibly gifted musicians on his numerous solo projects. He's sold millions of albums and won three Grammy Awards. As a composer, he's been commissioned to write a symphony for electric guitar and orchestra. He's the embodiment of great musicianship, always striving to challenge himself and his listeners. Steve's also been using Spectrasonics sounds and instruments for as long as we've been in business.
Pure Imagination
Vai advises musicians, "Let your imagination run free. That's a cliché, but really take it to heart, because when you do that you'll create things in your mind that are off of the physical radar completely. You might say 'I would love to do something that makes an instrument react this way' -or whatever it is- but it's not happening in the world yet. The fact that it's not happening isn't the important thing, the important thing is that your imagination has no limitations. Because that's how these things come to be. They start with the imagination running wild. By holding onto that big picture, you're pulling the power of the universe to bring things into your existence. Anybody that's ever created anything started with an idea. They kept that idea strong in their head, and they enjoyed the process of getting there."
Virtual + Live
Vai weaves the sounds of Omnisphere throughout the sonic landscape of his music to heighten its meaning and draw listeners along as the story unfolds. Steve extensively uses Omnisphere for textural ambiences and interesting effects. And even with the extraordinary bass players on his team, Trilian holds down the bass in his recent tracks. "Pick any song on my recent albums, and you'll likely hear something from Spectrasonics."
Vocal sounds play a key role in some of Vai's epic pieces, for example, "Weeping China Doll" from The Story of Light. "A lot of times when you hear sampled voices, the way they're recorded might not be ideal," Vai says, "but the Omnisphere voices have a lot of integrity to them, and there's such a large variety of sounds that you can't find anywhere. I even use the Gospel Choirs and love the Boys Choirs."
Vai especially appreciates the organizational infrastructure of Omnisphere. "There's so much to choose from. The variety can keep you searching for hours! [laughs] But if you know what you're looking for, it's easy. You can search by techniques, including some weird ones like Babbling, Doo-wops, and they're even broken down into sforzandos. The way things are categorized is really nice. You can click a category, and then refine your search by type - with the vocals you search by Gender, you can refine that by searching Classical choir by Females or various Boys choirs."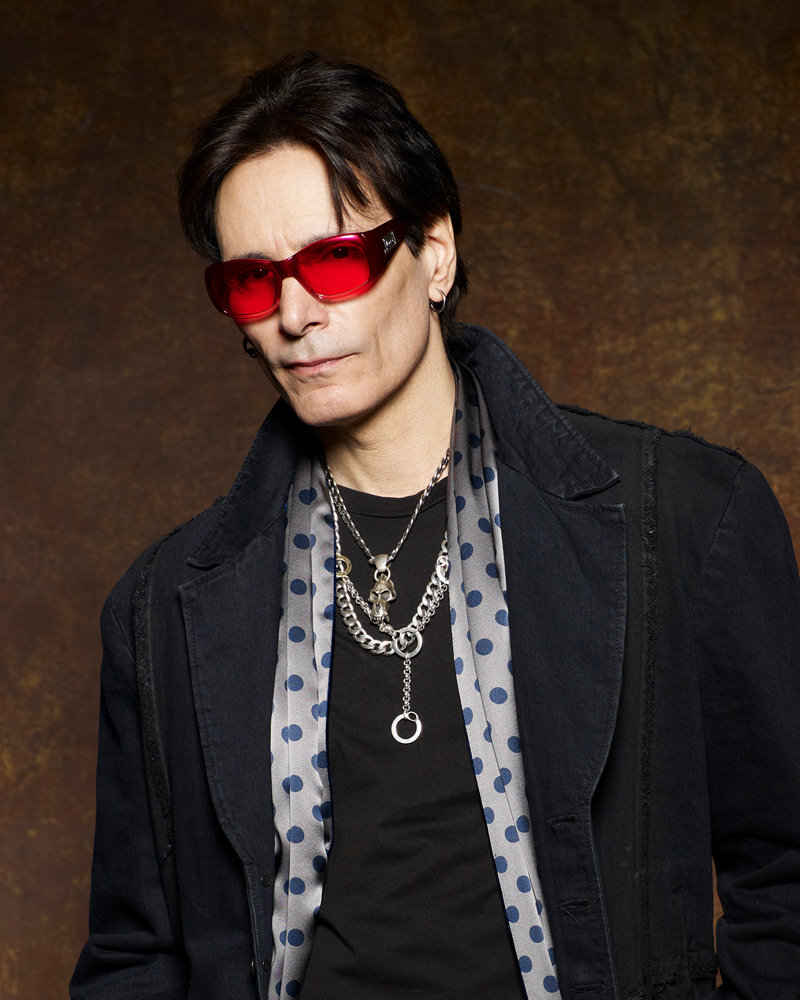 From the Beginning
Vai's first big musical epiphany came early. "I think I was 4 years old," he says. "I walked up to a piano and hit a note. I felt like anything I heard, I could see it in a musical dimension. I thought this was very natural. I didn't realize until later that it's only musicians that see music that way."
Steve is best known for his virtuosic rock guitar pyrotechnics, so his long-standing passion for composing orchestral music may come as a surprise. "I was composing before I was playing the guitar," he reveals. "I wrote my first orchestral score when I was in high school. I've kept that going and I've incorporated compositional overtones into my rock music. But it's always been a guilty pleasure."
One of the reasons Steve took so long (seven years) between studio records is that he wrote, recorded, and released two hours of orchestral music for the Metropole Orchestra in Holland. New commissions continue to come in for his long form compositions. "I've recently been invited to compose a piece of music for a Stravinsky Festival. I'm really excited about that. The thing is, these things take monumental amounts of time. For me to compose a symphony, I do everything by hand, and I orchestrate everything myself. I think 'Expanding the Universe' took five months of 15-hour days. It's a tremendous amount of work to compose, but it's one of my favorite things to do."
The Perfect Sound
Vai tweaks the envelopes of his Omnisphere sounds to fit each piece, which gives him the freedom to refine the sounds to ideally match the music. Steve also explained that he's careful in his use of sounds. "It's easy to date yourself or to be trendy with sounds, so I try to use them in a creative way that supports the melody and chords, and the overall atmosphere and intention of the track."
"I'm a huge fan of Eric Persing [Spectrasonics' creative director]," says Vai. "You have certain artists that you follow because you know you're going to be getting a certain quality. I've followed his work and try to get everything that he's done, because I think he does really great stuff. Even the way he's taken the Distorted Reality sound libraries and morphed them into Omnisphere is clever. I still to this day use the classic Distorted Reality sounds."
Going Forward
Looking to the future, Vai says, "I'm really excited to see how Spectrasonics evolves and hoping that the designers are imagining things that are off the radar, because they'll bring them into the radar."
Visit Steve Vai's web site at: www.vai.com
Watch Steve's career tribute when he was given the prestigious Les Paul Tech Award:
*Featured user stories do not imply an endorsement.