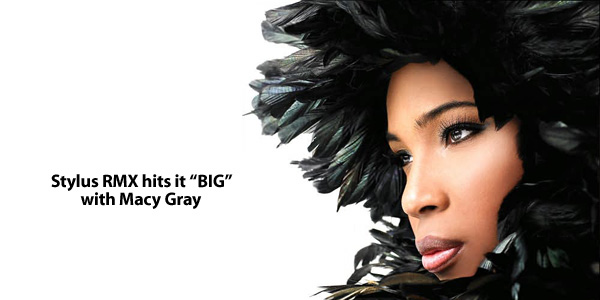 The unique talent and voice of Grammy-winner Macy Gray rises again on her new release "Big" - with a host of collaborators including Joe Solo, who co-wrote the song "I'm So Glad You're Here." The song is produced by the Black Eyed Peas' Will.i.Am and also features superstar vocalist Fergie. Solo also had a hit song with "Sweet Baby" on Gray's 2001 record "The Id" and both songs featured Stylus RMX in their creative groove.Solo has a long history with the singer, as he tells it, "I've been working with Macy Gray since 1985. We met at a late night diner. She was the cashier, and asked me if I was a musician --I had the 1985 rock guitarist hairdo and all - and she asked if I wanted to work on some music together. The very next day we got together and started writing! When I first heard her voice I was down for the long term. Then years later, in 2001 we co-wrote a hit with 'Sweet Baby'."
Macy Gray said, "I love him... I love Joe. We've worked together over the years, on some great songs, including 'Sweet Baby' and 'Glad You're Here.' He's a great writer and an even greater person."
Collaborating with artists is one of Joe's specialties, and he uses Stylus RMX as a key ingredient in composing. When asked about the process of writing songs with Macy Gray, Solo explained, "Macy and I sit down in a room with one guitar and we work on a song for three or four hours. For "I'm So Glad You're Here" she had a melody in mind. I had her air-drum the beat so I can see what she's hearing when she sings because she places her accents a certain way. Then I'd have her play air-guitar so I can learn the chord changes timing in her head, and I would experiment with various chord combinations."
At that point Spectrasonics comes into play. "Then we look for loops that might work in Stylus RMX. I combine and layer loops to make my own groove, I fuse them together to get a nice rhythmic tapestry. I do master-quality demos, especially if it's for a funky artist like Macy Gray. You can have big drums with a full layer, then you can break it down for the second verse. Once we get the whole percussion track set, then we lay down the acoustic guitar. After that the vocals and then I fill it in with what other elements I think it needs to frame the vocal. It's all about the vocal."
In creating songs he feels Stylus RMX becomes a guiding point for the whole song. "The interesting thing is that the feel of the song all starts with the Stylus RMX loop, it's the feel and the infrastructure of the song; every element is born out of that. Even if in the final mix the loop is taken out. It's a very valuable tool, even if an artist doesn't want 'loops' in their project," said Solo.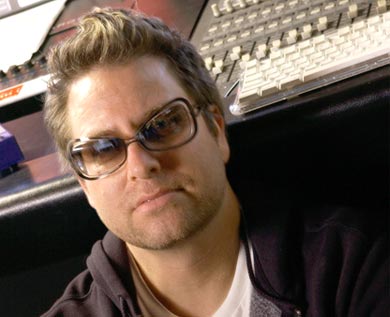 He adds, "The loop keeps the music groove going, and that keeps things funky. But Stylus RMX loops can be used in a wide variety of styles and projects. Because RMX has such a huge variety of loops, sometimes they can inspire a song, like synth patches do. Whether or not you use it in the final mix."
Solo reveals some tricks that go into his productions as well, "With the MIDI file from RMX you can use the rhythmic feel in the loop but you can trigger other things like sound effects, vocal notes, melodic scales. Whatever you trigger will be in the same groove. Stylus RMX is such an insanely great return on your investment."
Joe Solo's musical career is a diverse one. As a multi instrumentalist on guitar, bass and keyboards and as a composer he's worked with a myriad of record labels Warner Bros. Epic Records, J Records, Atlantic Records, Sony Records, Electra records, and Paramount (Famous Music) to mention a few.
As a co-writer and producer he often collaborates with other musical personalities, a partial list reveals connections to many top artists: Rami Jaffee (The Wallflowers), Wil-Dog (Ozomatli), Michael Caruso (Vanessa Williams), Arnie Roman (Celine Dion), Amy Powers (Barbara Streisand), John Ingolsdby (Madonna, Elton John), Tamara Champlin, Angie Chirino (Gloria Estafan), Randy Cantor (Ricky Martian, Desmond Child), Joy Enriquez (Arista / Babyface), and Matt Hyde (Porno for Pyros).
Solo is also an orchestral writer and film composer, as well as a key contributor to BMG's Killer Tracks music library, "I've used Stylus RMX and Trilogy on a lot of rock and pop, and and Atmosphere is a staple in my film scoring work," he told us.
Visit the Macy Gray website for the new album "BIG" - Release date: 3/27
Check out Joe Solo's website
See Interscope press here