Version of Ableton Live
The latest versions of Omnisphere, Keyscape, Trilian, and Stylus RMX are 64 bit only, so you will need to use Ableton Live 9 (64 bit) or above.
Plugin Window not Appearing in Live for Mac
Mixing VST and Audio Unit versions of the same plugin in Ableton Live on a Mac may cause plugin windows to not appear. To avoid this problem, do not mix VST and Audio Unit versions of the same plugin in a Live set.
Double click required to enter text
It may be necessary to click twice in the browser search field before you can enter text when using Live. We are working with Ableton to resolve this problem.
Hardware Synth Integration Troubleshooting
If Omnisphere is not responding to certain knobs or faders on your hardware synth, you may need to visit your hardware synth set up guide HERE, to reset Ableton's NRPN logic.
How to Automate Parameters in Abelton Live:
1.) click on the arrow button on your instrument's Device wrapper: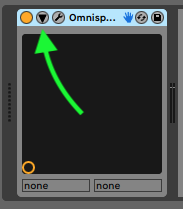 2.) click on the Configure button and your Spectrasonic's interface will open (the configure button is used to tell Ableton to accept new parameters for automation):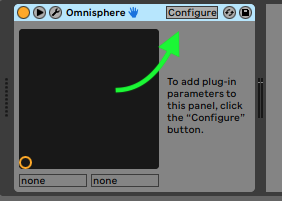 3.) right click on any of the knobs or parameters in your Spectrasonics instrument (or in the Sonic Extensions Custom Controls page), select Enable Host Automation, then click on the parameter once more.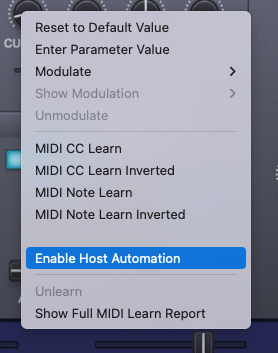 4.) after enabling host automation and then clicking on the parameter one last time, Live should have a new automation lane for the parameter that was choosen: