Some Logic Pro and/ or Mainstage users have reported issues where their instrument's interface is stuck in a "Controls" type of view and only shows parameters listed, such as the screenshot below: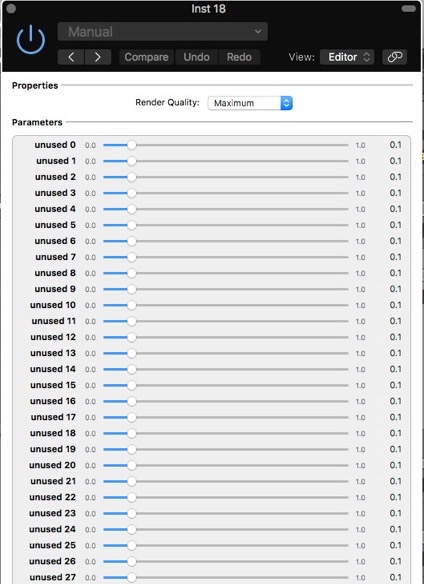 If you're experiencing this issue, here are a few things to try:
Often times, this could be caused by opening the VST version of your instrument within a plugin wrapper such as Plugue Bidule, Unify, Maschine, Komplete Kontrol (not supported), Akai MPC Live, Lié, etc.
Logic and Mainstage only use the AU (component) plugin format. Mixing AU and VST formats of the same plugin can cause a variety of issues including this interface issue.
To resolve this, replace all VST instances with AU (component) instances within the plugin wrapper. You will need to restart your DAW and may need to restart your computer for the changes to take affect.
If you are sure that you're not using a plugin wrapper that is accessing the VST format of your instrument, the issue can potentially be caused by errant files/folders in the following location:
Macintosh HD/ Library/ Audio/ Plug-Ins/ Components
If you see any files/folders in that location that don't end in ".component" or that look different from the ones that do, you can try temporarily moving them to another location on your computer (e.g. Desktop) to see if that resolves the issue.
If none of the steps above resolved the issue, please try resetting the AudioUnitCache file for Logic and Mainstage using the steps below:
NOTE: This may be a temporary solution.
1. In the Finder, choose Go > Go to Folder from the menu.

2. Type '~/Library/Caches/AudioUnitCache' in the "Go to the folder" field. Press the Go button.

3. Move the "com.apple.audiounits.cache" file to the trash. Do not empty the trash yet.

4. Restart your computer

5. Next, reload Logic and it will rescan your audio units.

If your instruments passes the validation, go ahead and empty the trash.
If you're still experiencing this issue, please feel free to reach out to us at info@spectrasonics.net for further assistance.