NOTE: MainStage 2 is only 32 bit compatible. Omnisphere 2.4 will work in this version as it is 32 bit compatible. Omnisphere 2.5 is 64 bit only and will work in MainStage versions 2.2, and 3 as they are 64 bit compatible. This tutorial is made in MainStage 3.
1. From the Quickstart Menu - select Keybaord and click 'Choose'.
2. In the Channel Strip section click the blue up and down arrow to show the input menu.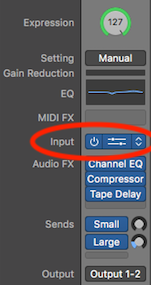 3. Select AU Instruments/Spectrasonics/Your Instrument/Stereo/
4. The instrument's interface will then appear.
5. If you need to show your instrument interface again, click the center section of the input on the channel strip.