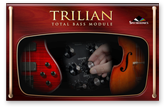 "The only bass plug-in you need? Absolutely… if you can't find the bass you need here, you're doing something wrong."
-Future Music
"A musical instrument that begs to be played, Trilian isn't just the best bass instrument on the market, it sets the gold standard for years to come."
-Keyboard
"The fact that Trilian is so well integrated with Omnisphere is really a plus in my mind. This takes it to a whole new level.
"
-Lyle Mays
"Yet another triumph for Spectrasonics… an exhaustive collection of some of the best bass sounds we've ever heard... Easily the most comprehensive source of bass sounds."
-Music Tech
"A dream come true for anyone seeking acoustic, electric or synth bass sounds."
-Pro Sound News
Trilian Video Tutorials
Trilian Reference Guide
Omnisphere
Stylus RMX