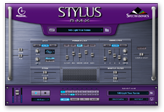 "Unquestionably the most powerful loop-based drum machine on the market….A must-have instrument for anyone looking to take their loops to a whole new level of flexibility.
"
-Computer Music
"The first time I heard RMX the grooves just knocked me out. Once I started getting into Chaos, it was really incredible; There's such a variety.
"
-Herbie Hancock
"An astonishing instrument. …incredibly versatile and well-featured instrument that will change the way you use loops and grooves forever. Essential for all computer musicians."
-Music Tech
"Very impressive …RMX helps me to sketch a song in seconds and it sounds great... This is how I produced songs for the movie Slumdog Millionaire.
"
-AR Rahman
"Probably the most intuitive software I've ever worked with, and is a constant source of ideas and inspiration. I'm a very satisfied user.
"
-Bob James
Stylus RMX Tutorial Videos
Stylus RMX Reference Guide
Spectrasonics Xpanders
ILIO Xpanders
New Orleans Strut
Omnisphere
Trilian