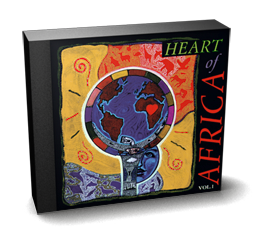 Heart of Africa vol.1
An unprecedented sonic expedition into the rich musical heritage of Africa. Discover a fascinating compilation of strange & wonderful instruments, voices, and performances that evoke deep images & primitive emotions.
Produced in conjunction with reknown composer
Hans Zimmer
and digitally recorded on location in tribes, villages and studios all across the African continent. Heart of Africa is truly an intriguing disc for your next film score, remix or album project.
Volume One includes authentic African phrases & multi-sampled instruments:
South African Choirs (phrases & chants)
Tribal Choirs (with Chromazones™ phrases & multisamples)
Solo male & female african vocalists (phrases & utterances)
Body Percussion, Stomping, Marching, Screams & Jumping rituals
Massive African percussion, fx & ensembles (instrument samples & loops)
Extensive collection of Kalimbas, Sansas, M'biras (phrases & multisamples)
Marimba, Slit/Log Drums & Balaphone
Bushman instruments
Ethiopian Harps
Berimbau, Mouth bows
Nigerian Udus
Berber yells & Morrocan instruments from N.Africa
S.African Guitar grooves
Tribal remix grooves
Mozambique hunting horns & Pygmy pipes
Village ambiences & SFX
and much much more!

*Instruments are available with both Traditional & Western tunings.
The Heart of Africa series has been produced with the same standard of excellence as the renown
Heart of Asia
library.

Audio Demos
© 1996 Big Green Music ASCAP

Review Quotes

"...draws a parallel with their earlier and very excellent Heart of Asia collection, though to my mind, Heart of Africa is far more exciting...I was immediately impressed by both the clarity and power of the recordings...the African choir and vocal sounds are simply stunning...beautifully multisampled with lots of depth...Mere description does little justice to this collection of samples. It's quite simply the most fantastic collection of ethnic sounds I've heard from a single source."
-Sound on Sound Magazine

"Spectrasonics has unleashed another world music monster in Heart of Africa...a feast of auditory delights...The emotion, energy and spontaneity of the performances is wonderful...It's great that Spectrasonics has captured the buzzes and rattles that adorn the sounds of many African wind and percussion instruments, since they are an essential expressive element in African music...The CD-ROM versions have plenty of musical resources, and far more stuff than we can describe...the best material may be the traditional tribal choir phrases, but you'll also find plenty of playable kalimbas, snappy clay pot percussion and gorgeous balaphone multisamples...the log drums are very deep and meaty, and the marimbas wonderfully dynamic...I was delighted to find lots of crisp udu samples, with no less than 64 separate samples laid out across the keyboard in a single program......An amazing assortment of musical experiences that any sampler owner can use...if you'd like to spice up your tracks with a dose of real African flavor, it's hard to see how you could go wrong with Heart of Africa vol.1"
-KEYBOARD Magazine Triple 5 Star review


*All other manufacturers' product names used in this instrument are trademarks of their respective owners, which are in no way associated or affiliated with Spectrasonics. These trademarks of other manufacturers are used solely to identify the products of those manufacturers whose tones and sounds were studied during Spectrasonics sound development.