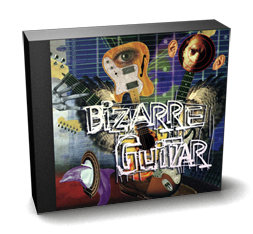 Bizarre Guitar
If you like Distorted Reality, this is a library you won't want to miss.
This unique collaboration between visionary artist
Peter Maunu
and Sound Designer
Eric Persing
, was over two years in the making and marks a new milestone in creative sound.
Neither a traditional guitar multisample library or a collection of "riffs", Bizarre Guitar blazes a new frontier of Sound Design via guitar. It features the extreme contrasts of breathtakingly beautiful ambience beds to searing harmonic slashes, bowed guitar and unsettling washes.
Created with tape loop techniques, e-bow, cutting edge signal processing tricks and the Roland VG-8 guitar system, these textures are truly one-of-a-kind.
If you're into any type of ambient music, this library is indispensable.
The Bizarre Guitar CD-ROM versions include the Audio CD and a bonus Groove Control™ section! This allows you to independantly change the tempo and key of selected guitar loops, right from your existing sequencer! You can even quantize the feel, pitch bend and do tempo changes and the groove will stay locked!

Audio Demos
Amazing sounds and grooves all created with Peter Maunu's awesome Electric Guitar processing. You can find all the grooves in the demo in Stylus RMX Xpanded as well.
© Spectrasonics and Eric Persing
Just a small example of the amazing processed guitar ambiences from the Bizarre Guitar sample library that are included in enhanced form in the Omnisphere core library.
You can find these grooves in Stylus RMX Xpanded and DR2.
© Spectrasonics and Eric Persing

Review Quotes
"Do aural images of surreal alien landscapes filled with swirling ambient colors make you a happy camper? If so, then Spectrasonics' new Bizarre Guitar sample collection might be just what you need for the old audio toolbox. A cousin of the legendary Distorted Reality series, this new release from producer Eric Persing and guitar wizard Peter Maunu has been more than two years in the making, and it's well worth the wait...not your average distortion-based metal riffs.This other-worldly collection really stands out from what I've heard before...I put a number of these samples to work in both ambient and hip-hop tracks, and they proved to be quite effective. Yet after more than a month of listening, it's still hard to believe that some of them are guitar-based. For me this is saying a lot, since I've been mutating and twisting the sound of the guitar in every imaginable way since the mid-'60s...The list of processors used to create this collection is immense...these samples worked well as the basis for ambient beds...Useful filter modulation routings and easy access to combinations of samples mapped in quick menu programs, plus programs in which individual samples are mapped across the entire keyboard, made it a breeze to get around...I also appreciated having the audio CD included in the package with the CD-ROM; this made it simple to quickly import samples into my Pro Tools rig for further DSP mutation...The range of sonic ideas is vast...a rather mind-altering vibe. All of the Ambient sounds are worth investigating; many have an accent on the melancholic, and they're full of great bed textures for instant composition ideas...brings to mind the dreamlike soundscapes recorded by Fripp and Eno in the late '70s. The edgy and gritty Stabs, X-Poser FX, Slash and Burn FX, and Atonal Loops groups offer plenty of industrial grunge inspiration. If you want to trip out completely (and check out the goods), put the audio CD on and close your eyes for an almost 70-minute journey. Overall, I found this collection an aural addict's dream come true, with plenty of creative stimulation in almost every track. If you're into ambient landscapes full of angelic textures and pulsing sonic displays of modulated ecstasy from another universe, then this is the collection for you."
-Mikail Graham, Keyboard magazine review

"...not a guitar sample CD as we know it. Often the samples are processed to such an extent that you'd have no idea a guitar was involved. Bizarre Guitar is more like a guitar-based Distorted Reality, full of drones, backgrounds, loops and pads, all created and recorded with meticulous attention to detail. There are heavily treated guitars with ring modulators and other processors to make them sound extremely electronic while others are processed to make them sound almost like synth strings, ethereal pianos or electronic marimbas...edgy techno sounds, some almost like guitar flavoured white noise, while the smoother pads are perfectly suited to ambient and film music...because the guitar is the sound source, the samples have more of an organic feel than most electronically generated sounds...there is a section of useful multisamples, including a very nice bowed guitar. Bizarre Guitar will appeal to those who like Distorted Reality, providing a wealth of strange and beautiful sounds that should stimulate your songwriting buds."
-Sound on Sound magazine review

"Audio quality is excellent, there are no audio defects or artefacts to be found anywhere. Virtually every sample has been heavily processed, mostly would be fine right out of the can, you could even mutate them further if you so desired of course. Whilst Bizarre Guitar falls into the "Unusual collection of sounds" category it does retain it's musical background more than some...The whole collection oozes quality, the sounds are rich, complex and cover a huge range of styles and concepts, and I still am not quite convinced they're all guitar sourced, I'd swear there is some choral like sounds there... I'd certainly be interested in reading a "How to process sounds" book from these guys. The sustained sounds, especially the Ambient and Drone, sections are brilliant. Whole range of sounds from the mellow ethereal gossamer lines, to deep melancholy, menacing, sub sonic soundscapes. The rest of the collection isn't that far behind either, a whole range of evocative sounds ideal for layering with other sounds or as a more key bedrock element of a track. CD ROM users will especially appreciate how the producers have just gone that extra mile to map things to the modulation wheel to produce even more variety of sounds and allow the introduction of subtle variation...Most anyone can make use of the material on this collection, from Kitaro style new age tracks to Nine Inch Nails industrial mayhem and all steps in-between. Whilst not everything will appeal to everyone of course, there is a gold mine of unique, inspiring and evocative sounds here. If your producing space, ambient, new age or filmscore, or anyone who uses any kind of pad sound I'd seriously recommend Bizarre Guitar."
-Sounduser.com review 9/10 Overall


*All other manufacturers' product names used in this instrument are trademarks of their respective owners, which are in no way associated or affiliated with Spectrasonics. These trademarks of other manufacturers are used solely to identify the products of those manufacturers whose tones and sounds were studied during Spectrasonics sound development.