Longtime Spectrasonics user and award-winning composer James Newton Howard is regarded as one of the premiere film composers in the industry with 8 Oscar Nominations, 3 Golden Globe Nominations, a Grammy, an Emmy and over 100 film scores completed.
Newton Howard says, "I've been using Spectrasonics instruments since they first came out and I love them. For textures, Omnisphere is often the first synth I turn to and nothing beats the variety of bass sounds in Trilian." On setting up his writing process James explained, "We usually start by creating a palette of sounds right at the very beginning of the scoring process. These days I run one Omnisphere on a Receptor and others in my sequencer, Cubase, so I can have as many instantaneous choices available as I can. The Omnisphere palette usually consists of some pads, some tempo-synced sounds, and some percussive sounds, a little of everything. In addition, I also still use some of my favorite Atmosphere sounds, for additional pads."
"The great thing about Omnisphere is how quickly you can change a patch from stock to something custom with just a few clicks," he says, then describing some of his editing techniques he adds, "Sometimes we'll take a patch, change the envelope, add a delay and turn on the arpeggiator and like that you have a new sound. The effects section is a huge bonus as they can really transform a rather simple sound into something very lush and interesting, or very aggressive and intense. And then, being able to control any parameter via midi controllers adds another level of dynamic. As we set up, we generally leave a little room in the palette so that as the score evolves we can add sounds, either for use in the overall score or for a specific cue. You never know how a score is going to evolve and sometimes you need to adjust your plan, including sonically what approach you're going to take."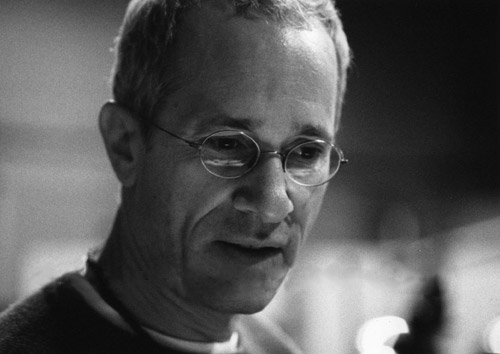 © Sally Stevens Photography
Having been a Spectrasonics user from the company's very first virtual instruments, James remembers, "Omnisphere is definitely a permanent part of my palette, much as Atmosphere was in the beginning." Revealing some of his favorite things about Omnisphere he says, "What's so great about Omnisphere is the sheer volume of sounds available, and how easy it is to modify them with the bank of on-board effects. The tempo-synced effects and arpeggiators are extremely handy in film, as they provide propulsion and motion. Some of the pads are great for doubling strings, just to add an extra layer of texture to the traditional orchestra. Even something as straight-ahead as the guitar patches can be very effective, like Glorious Guitars for instance. The sounds are very rich and expressive"
Describing his creative process and choice of sounds a bit more in depth, James says, "I always mock up and orchestrate as I write, and that includes electronic as well as orchestral elements. To me they're inextricable - they always have to work in concert. Mocking the cues up and essentially mixing as I go is the only way to know for sure that they're going to work in the final film. I like to get my music in the movie as early as possible, to replace the temp score and really help the film find its voice. Often, my synth demos are used in the preview screenings since they're so close to what the final will be."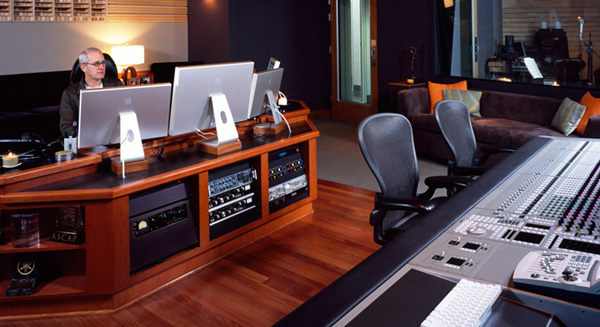 James Newton Howard in his studio
"Of course you often need a strong theme so the musical choices are extremely important. Sometimes we will use a lot of different sounds to construct the score, from orchestra to synths and electronics, guitars, drums, horn sections, etc. so choosing the right sounds became extremely important as with that many elements, things could have become cluttered very quickly," he says.
"As far as process, when it comes time to record I generally start with the small ensemble stuff: guitar, bass, drums," he continues, "then move on to orchestra so that the director can hear how everything is fitting together in real time at the recording session. Of course having heard all the demos there are usually very few surprises come recording day."
The astonishing list of over 100 classic movies and popular hits that James has scored includes: Batman Begins, Pretty Woman, The Fugitive, Wyatt Earp, My Best Friend's Wedding, The Sixth Sense, Collateral, The Devil's Advocate, The Lookout, Dave, Falling Down, Glenngary Glen Ross, I Am Legend, Snow Falling on Cedars, King Kong, Blood Diamond, Primal Fear, The Interpreter, French Kiss, Michael Clayton, Salt and The Dark Knight.
When asked about one of his most important talents, James concludes, "I'm the Ping-Pong champion at the studio." Hmmm…we think there might be a little more to his success!
See James Newton Howard credits at IMDB (Internet Movie Database)
Find out more about Omnisphere
*Featured user stories do not imply an endorsement.