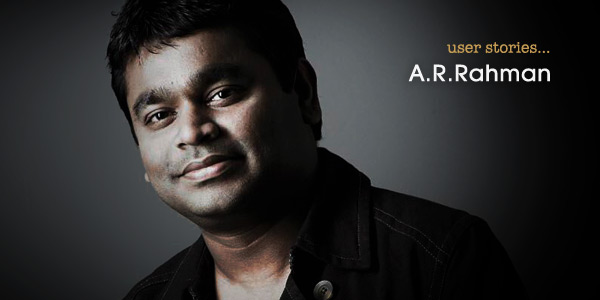 Oscar-winning composer and longtime Spectrasonics user AR Rahman recently talked to us about his creative use of Omnisphere in his acclaimed score for Danny Boyle's film 127 Hours — Boyle and Rahman teamed up previously in the worldwide smash hit Slumdog Millionaire. Shortly thereafter, Time magazine named Mr. Rahman as one of the world's 'Top 100 Most Influential People.' He is one of the biggest selling musical artists of all time, having sold over 200 million records.
Mr Rahman talked to us about the challenges of scoring such a unique film focused almost entirely on a single character in a very small space:
"I was a bit uneasy before scoring 127 Hours, but Danny makes you feel at ease - at least for the two movies I've scored for him. The score concept fell into place slowly. For this film I had a bit more time because I was involved from the time of the script. It started to became clear that we had to deal with this film discreetly, with silence, sound design and music." says Rahman
AR explains how the concept continued to evolve, "We agreed that the music had to be trippy, meditative and driving! But most importantly, it became clear that the score had to be intimate, so we didn't deal with any epic orchestral sounds —though I love epic stuff for movies — this was mainly a Guitar driven score, with lots of original textures we created with Omnisphere and our sound design. One advantage of this approach was that some of the parts were actually recorded in hotel rooms in-between my concerts!"
In regards to the rich sound design of the score, AR explains, "There is a lot of Omnisphere in this score. I recorded many textures from Omnisphere and bounced them as audio, then mixed them with live strings and played with processing the result. We especially used the granular synthesis capabilities of Omnisphere, which was tweaked and overlaid with of a lot guitars, especially in the 'Touch of the Sun' and 'RIP' cues; Danny loved the sound."
AR Rahman's score for 127 Hours is nominated for a Golden Globe Award in the "Best Music" category. Check out the music from 127 Hours on Apple iTunes.
AR Rahman visits Spectrasonics
After his multiple Oscar wins, Mr. Rahman stopped by the Spectrasonics' studios to meet Creative Director Eric Persing and tell us about his move to the Los Angeles area from India with plans to score more movies. During the visit, Eric and sound designer Diego Stocco showed A.R. the classic 1970's "Optigan" keyboard instrument that used clear plastic 'records' to play sounds.
Mr. Rahman is also an avid Stylus RMX user, "Stylus RMX is very impressive …it helps me to sketch a song in seconds and it sounds great. Most of my own library of grooves that I have made are in Stylus RMX now. I start composing a song by listening to these and getting ideas. Then I build up a rhythm part. When I have that groove, I bring in live players to record along with RMX. Then some of the live player tracks I process to blend more with the Stylus RMX sounds. Some of the live players are mixed just as they are. This is how I produced songs for the movie Slumdog Millionaire."
Eric Persing showing AR his Optigan
On the importance of Spectrasonics music software in India, Rahman notes, "Eric Persing is a very important person in music, his name is not as well known as it should be. Many of the musicians in India use Spectrasonics music software, I have a music company and school (www.kmmc.in) in India where I hope to have students learn the software."
Visit AR Rahman's website
*Featured user stories do not imply an endorsement.