Hardcore gamers know that a killer score makes a great game experience even more intense and immersive. In BioWare's blockbuster "Mass Effect 2" game - recently named the #1 game for Xbox 360 - the music creation team used Spectrasonics virtual instruments extensively to craft the massive soundscape that players enter. Lead composer Jack Wall and his team sat down with us to describe what it takes to create a full music score for a hit modern video game.
"With over 160 minutes of music, most of which was composed in just a few months, I knew I needed help to make the story and multitude of new characters have a fair amount of diversity," Jack Wall told us. "Omnisphere was one of those anchors for the project, as we could share patches for different purposes between the team."
"For Mass Effect 2, there are several new characters in the game," Wall says. "I wanted to do specific and unique musical treatments on those levels, so I assigned complete game levels to each of the other composers. Omnisphere, like Atmosphere before it, has become sort of the 'big bucket of vibe' to use on our canvas - from which you can then be inspired to write something with the right tone. The rhythmic patches are really deep and customizable and can move in time with whatever changes I want to make to the score."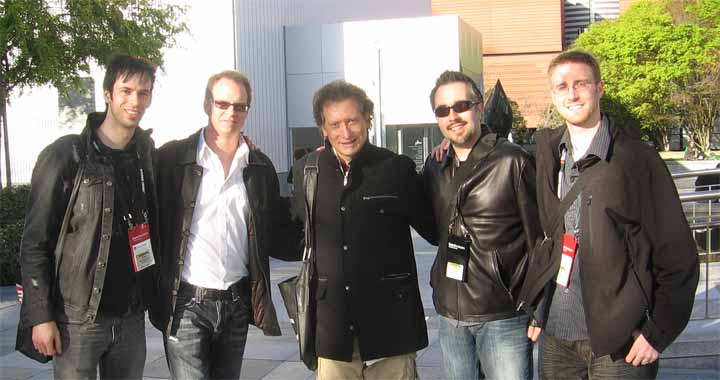 The 'Wall of Sound' Team: Brian DiDomenico, Jack Wall, David Kates, Sam Hulick, Jimmy Hinson
Composer David Kates adds his take on integrating music and 'sound' together, "Omnisphere is so powerful, but one of the ways we've found to use it is to take sounds like Dreaming in the Jetstream, and Living Analogue Swell and apply them to the musical canvas as a kind of aural 'wash.' This gives immediate depth and color to sound cue, and then we will apply more conventional, tonal instruments."
"The patches and soundsources in Omnisphere are just ridiculously rich and expressive," says Jimmy Hinson. "I loved that Omnisphere has so many patches based on classic analog synths, and since the Mass Effect series is heavily inspired by music like Vangelis's score to 'Blade Runner' that really came in handy," adds Hinson.
Stylus RMX played its part in ther Mass Effect 2 score as well says Kates, "RMX has become such an essential staple in my composing arsenal, that I simply can't imagine facing a blank sequence without it being within my immediate reach. I used it for so many applications in Mass Effect 2, mostly to create pulse and tension. There's always a bit of the RMX Cinematic Sound Menus throughout my ambient pieces."
Trilian got used on the score as the instrument was released close to the end of the music production, "Near the end of the project Trilian came out in just enough time for me to use it. With Trilian, I'd usually just load its sounds up in Omnisphere. I used MS-20 Complexus and Inner Conflicts - or variations of them anyway," offers Hinson.
Regarding the advantages of Spectrasonics instruments for scoring games Wall adds, "I think the biggest advantage for these virtual instruments, other than the total recall, is that the sounds themselves are often unique and the design of these instruments allow for a lot of customization to suit the track. I love "found sound" and doing custom recordings, but I also love the tweak factor that wouldn't be possible with physical instruments. I've been using Spectrasonics products since the very beginning because I know that whatever you produce, it will always be excellent sonically and creatively."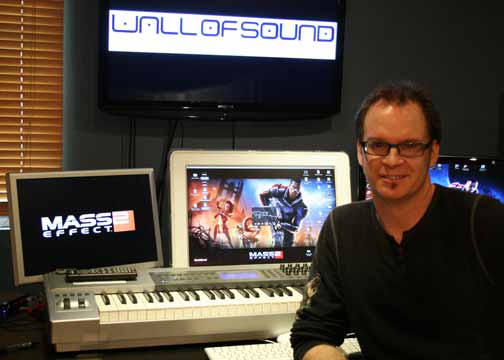 Jack Wall in his "Wall of Sound" Studio
Check out the "Mass Effect 2″ website
Visit Wall of Sound website