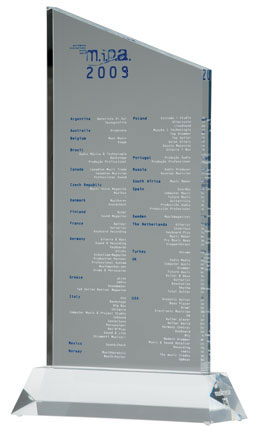 Over 100 Magazines vote Omnisphere 'Best Software Instrument' FRANKFURT, GERMANY
At the 10th annual Musikmesse International Press Awards, Spectrasonics' Omnisphere was voted the 'Best Software Instrument' of 2009. The prestigious MIPA awards are chosen by the editors of over 100 music industry magazines from more than a dozen countries. The MIPA has come to be considered the "Grammy" of the musical instrument/pro audio industry."It's a huge honor to receive this recognition of our work on Omnisphere," said Eric Persing, Founder and Creative Director of Spectrasonics. "Our whole team worked incredibly hard for 6 years to create this instrument – from the architects of the software and user interface, to our international team of sound designers that went to some crazy lengths to create new sounds. Thanks!"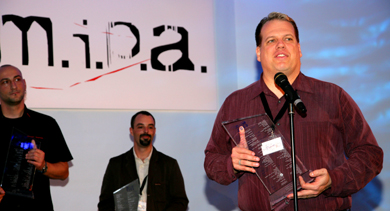 Omnisphere is Spectrasonics' flagship 'Power Synth' which breaks completely new sonic ground by combining a wide variety of hybrid realtime synthesis techniques, an epic library of remarkable 'Psychoacoustic' sounds, and many innovative features that have never been seen before in any hardware or software synthesizer. Over 6,000 patches and soundsources are available for Omnisphere in a wide range of categories from aggressive and punchy synth sounds to traditional Vocal/Choral patches, 'Hybrid Organic' patches to dance oriented categories, and enhanced versions of all the original Atmosphere patches. The new instrument is the first to be based on Spectrasonics STEAM Engine software technology.
Omnisphere has an MSRP of $499 US and €379 Euro.
More about Omnisphere

More about the MIPA awards