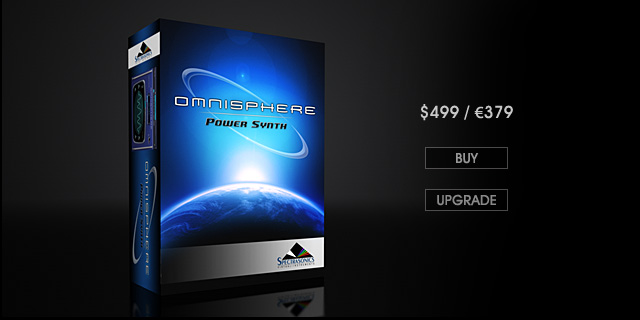 FEATURES

Powerfully simple interface design makes key features accessible to every user
Advanced users can "zoom" into deeper and deeper synthesis capabilities
Sophisticated Browser with searching, sound attributes, descriptions and images
8 independent Arpeggiators
World's first Arpeggiator with Groove Lock™ - which allows the Arpeggiators to match the feel of Stylus RMX and MIDI Files.
Special performance-oriented Live Mode interface allows for seamless, interactive creative patch switching and layering on the fly
Stack Mode interface allows for complex patch layering, splits, and crossfades (velocity/positional/controller)
8-part multitimbral with built-in Mixer, Aux FX and Mastering FX racks
Advanced MIDI Learn and Automation parameter handling
Comprehensive integrated Reference Guide
Hours of free Tutorial Videos available online to registered users
Windows native 64-bit support and Mac OSX Snow Leopard compatibility
SYNTHESIS FEATURES
Oscillators can be sample-based or synth-based
Up to 10 oscillators per patch with new Harmonia™ feature
Flex-Mod™ modulation system allows powerful modular-style routing
Dual Layer architecture
High-definition streaming engine
Variable DSP Oscillator Waveshapes
Sophisticated Unison Detuning
Variable Analog Feel
Modulatable Hard Sync
Granular Synthesis
Innovative Chaos Envelopes
Polyphonic Timbre Shifting
Polyphonic Timbre Crushing
Polyphonic Waveshaper
Polyphonic Ring Modulation
Polyphonic Glide
FM Oscillators
Dual Filter architecture per Layer
Create filter combinations in series or parallel
Arrange and blend more than 17 Filter algorithms
Fully modulatable FX racks
Alternate tuning scales supported
6 full-featured LFOs per patch
8 Advanced Multi-breakpoint looping Envelopes per patch
Unique Dual Envelope interface - Simple ADSR-style or Advanced Graphic-style
Sampled soundsources can be processed with synthesis features!
SOUND LIBRARY
Vast Core Library - over 40GB with thousands of sounds
Cutting-edge sounds from the renowned Spectrasonics sound design team
Innovative "Psychoacoustic" soundsources for organic synthesis!
Unique multisampled "Composite Morphing™ soundsources
Integrates the award-winning, original Atmosphere® core library
Integrates best of Spectrasonics highly-acclaimed sample libraries
Massive variety of inspiring sounds for all types of music production
Searchable by sound attributes (Timbre, Genre, Mood, Tonality, Source, etc)
Expandable sound architecture
EFFECTS FEATURES
Integrated, full-featured FX Racks
Up to 12 simultaneous FX per patch
Layer FX modulatable from any mod source
Hundreds of FX presets included
Over 32 original FX Processors covering the full spectrum of signal processing
SYSTEM REQUIREMENTS FOR ALL USERS
2.4 GHz or higher processor
2GB RAM minimum, 8GB or more recommended
Dual Layer compatible DVD-ROM drive
50GB of free hard drive space
Mac Users:
OSX 10.7 Lion or higher
Intel dual core processor or higher
AU, VST 2.4 or higher, RTAS or AAX capable host software
Audio Unit plugin requires host with support for "Cocoa" based plugins
Native 64-bit and 32-bit on OSX
6GB of RAM or more if using the Sample File Server

Windows Users:
VST 2.4 or higher, RTAS or AAX capable host software
Microsoft Windows 8/7/Vista
Native 64-bit and 32-bit on Windows

*All other manufacturers' product names used in this instrument are trademarks of their respective owners, which are in no way associated or affiliated with Spectrasonics. These trademarks of other manufacturers are used solely to identify the products of those manufacturers whose tones and sounds were studied during Spectrasonics sound development.