Although the exact origin is unknown, Tack Pianos started showing up in the late 1800s and early 1900s. By inserting thumbtacks or small nails in the felt surface of the hammers (usually upright pianos), the sound of the hammers hitting the strings is transformed to a much brighter, brittle sound. The slightly out-of-tune, "Honky-tonk" sound is often part of the Tack Piano's charm – sounding like it came straight out of Vaudeville or an Old West saloon.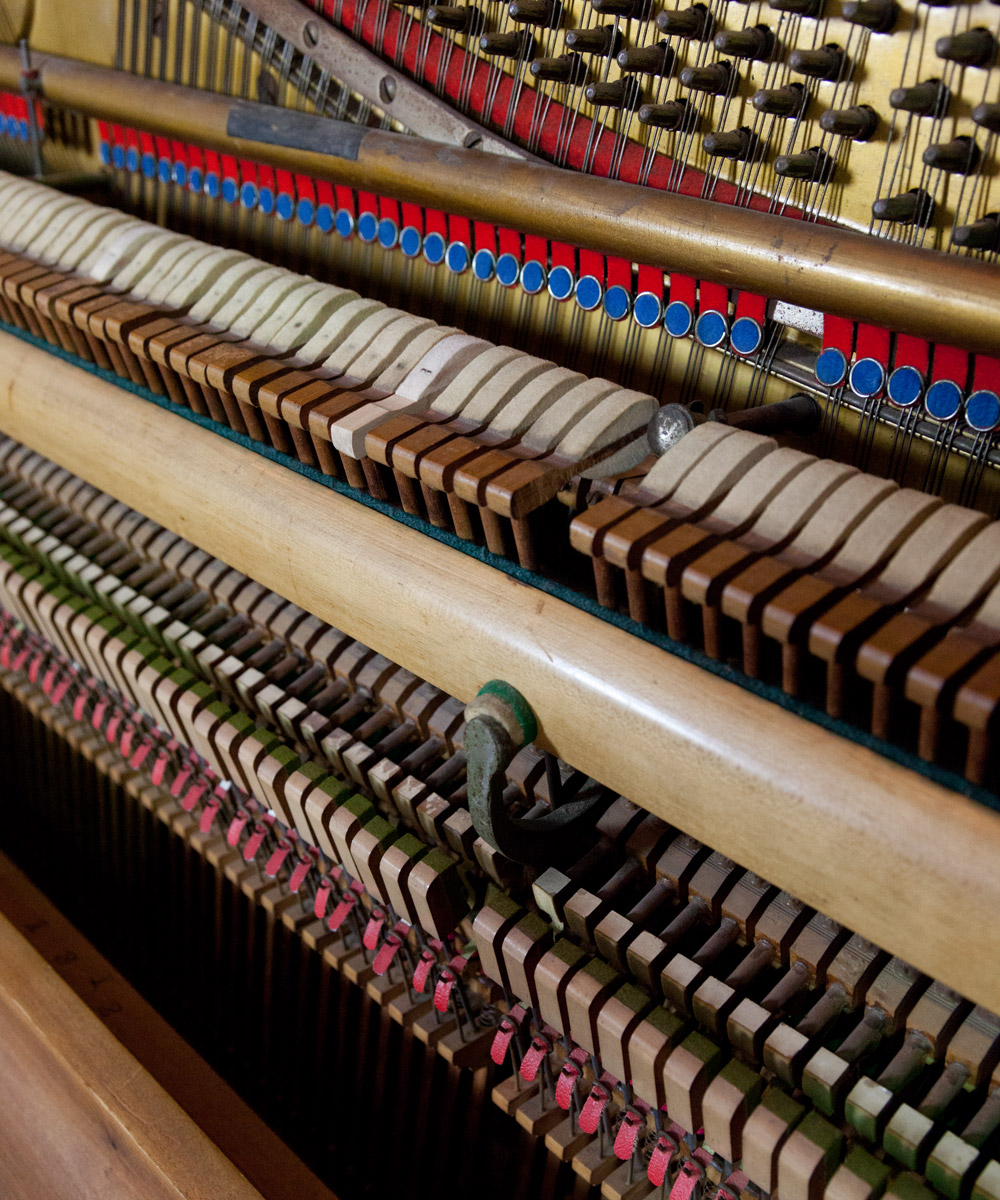 Far from the common specimen, this rare Wing Upright Piano from 1900 is one of the most beautiful and unusual vertical pianos ever made. Looking downward, you immediately see something unusual – instead of the two or three pedals usually found on upright pianos, this one has four! The two pedals on the left control the "Instrumental Attachments". The first pedal ibrings a mechanism fitted with metal balls on springy blades into contact with the strings, so when the hammers strike the strings, their vibrations cause the balls to bounce – similar to a Marxophone – sounding like a hammer bouncing on a zither. The second pedal brings in the "tacks," which in this case is the lowering of a bar fitted with small metal rings suspended from felt strips, positioning the rings between the hammers and the strings. The hammers hit the rings, which then hit the strings, transforming it into a classic Tack Piano sound, without destroying the hammers.
You've heard the unique sound of a Tack Piano played on numerous Pop and Rock hits, as well, including The Captain & Tennille's "Love Will Keep Us Together," Queen's "Killer Queen," The Rolling Stones' "Wild Horses," and The Beach Boys' hit, "Good Vibrations." Other notable Tack Piano users include Emerson, Lake and Palmer, Burt Bacharach, Fleetwood Mac, Elvis Costello, Neil Young, Ben Folds, Coldplay, Ray Manzarek of The Doors, and film composer/record producer Jon Brion. Perhaps the most famous use is by The Beatles in their song, "Rocky Raccoon."
All musical instrument manufacturer and product names used in Keyscape are trademarks of their respective owners, which are in no way associated or affiliated with Spectrasonics. The trademarks of other manufacturers are used solely to identify the products of those manufacturers whose tones and sounds were studied during Spectrasonics sound development. All names of musical artists and instrument inventors have been included for illustrative and educational purposes only and do not suggest any affiliation or endorsement of Keyscape by any artist or instrument inventor.