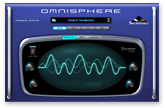 "Omnisphere - best thing ever.
"
-Gary Numan
"The most talked about software synth in recent memory lives up to the hype...There's now a true desert-island virtual synth, and its name is Omnisphere.
"
-Recording Magazine
"One of the most inspiring virtual synths we've ever used... not only provides you with some of the best sounds in the business, but offers cutting-edge synthesis tools to create your own.
"
-Music Tech
"It's not only the wealth of sounds in Omnisphere; You're struck by the fact that you hear magic sound after magic sound."
-Jordan Rudess
"I can't say enough good things about Omnisphere! I'd have to say that discovering it has been one of my greatest pleasures.
"
-Danny Elfman
"If you can imagine it, you can do it. That's what Omnisphere is about. It gives power to imaginative people.
"
-George Shaw
Omni TR iPad app
Omnisphere Tutorial Videos
Omnisphere Reference Guide
Bob Moog Tribute Library
Trilian
Stylus RMX